By reading the XPAND Code pasted on a sign, a variety of expanded information relating to the sign can be obtained.
XPAND Code can be read in the following ways.
Read on the instant launch app, no installation required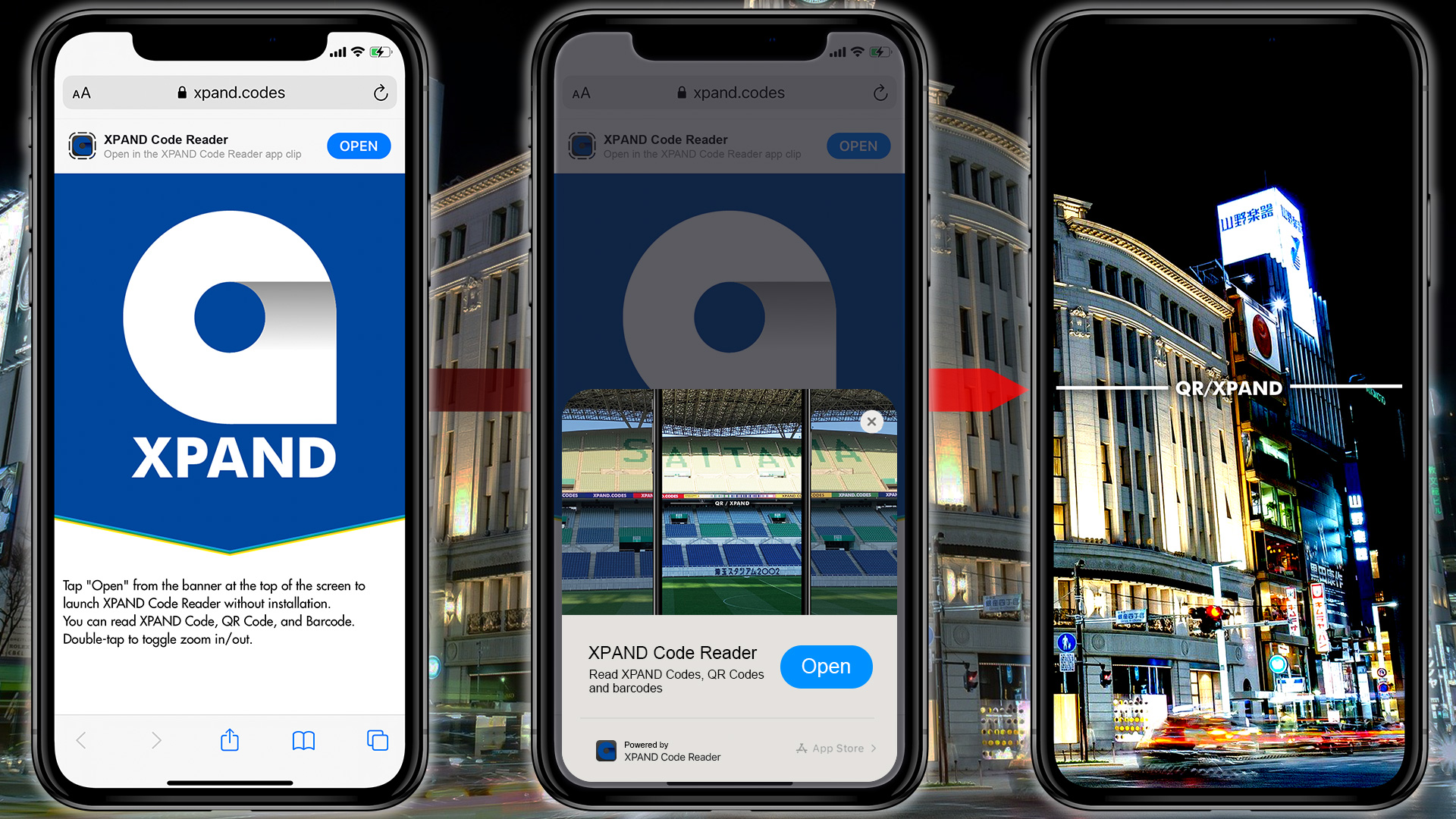 With XPAND Code Reader for iOS App Clip or Android Instant App, you can use the best performing XPAND Code/QR Code Reader immediately without installation. Please tap here.
*Not visible from anything other than iOS/Android devices
Operating environment:
iOS 14 or later
Android 7 or later (Some models are not supported)
Read with an app supporting XPAND Code
Using a QR or barcode reader app that supports XPAND Code, you can read it the same as a QR code.
The app will automatically determine if an XPAND Code or QR code is being read, so no switching operation is necessary.
It is currently supported by the following 3 apps. There are plans for more apps to support it in the future.
Please check with your app developer/distributor to see if your app supports XPAND Code and if and when they plan to support it in the future.
pic2shop
Vision Smarts
Ultra-fast and reliable Belgian multi barcode reader



XPAND Code Reader
XPAND supported by Vision Smarts
High-performance barcode reader that can read 200m / 700ft



sssQRc
SENSYUSYA Co., Ltd.
Free app that can read QR/JAN/XPAND Code


Read from default browsers
Can be read from webpages incorporating the JavaScript barcode reader "XPAND.CODES Reader JS".
If using iOS, Android or Windows PC, please tap here.
Operating environment:
iOS 11.3 or later + Safari
Android + Chrome 29 or later
Surface + Firefox 22 or later
These supporting apps read codes conforming to the XPAND Code v2 standard. v1 (the old version) which was in use before February 2017 can be read only with XPAND Code Reader / pic2shop.
Read from a standard iPhone camera or QR code app
Since iOS11, standard iPhone cameras have supported QR code.
Therefore, although there are some limitations, "XPAND Code Q", which is a complex type of QR code, is also now readable without apps.
Furthermore, reading is also similarly possible in QR code apps that do not support XPAND Code including Android.
However, some apps have poor code reading functionality and may be unable to read from a distance if they do not support XPAND Code.
We therefore recommend using apps that support XPAND Code.

Notes of Caution:
Supported OSs are iPhone and Android. However, there is no operation guarantee. Especially in the case of Android, lack of support and problems with display may occur.
Use is presumed to be on default browsers.
It functions on both smartphones and tablets.
The contents displayed will differ depending on the sign. When supporting multi-lingual displays, the language will be automatically determined based on the device's language settings.